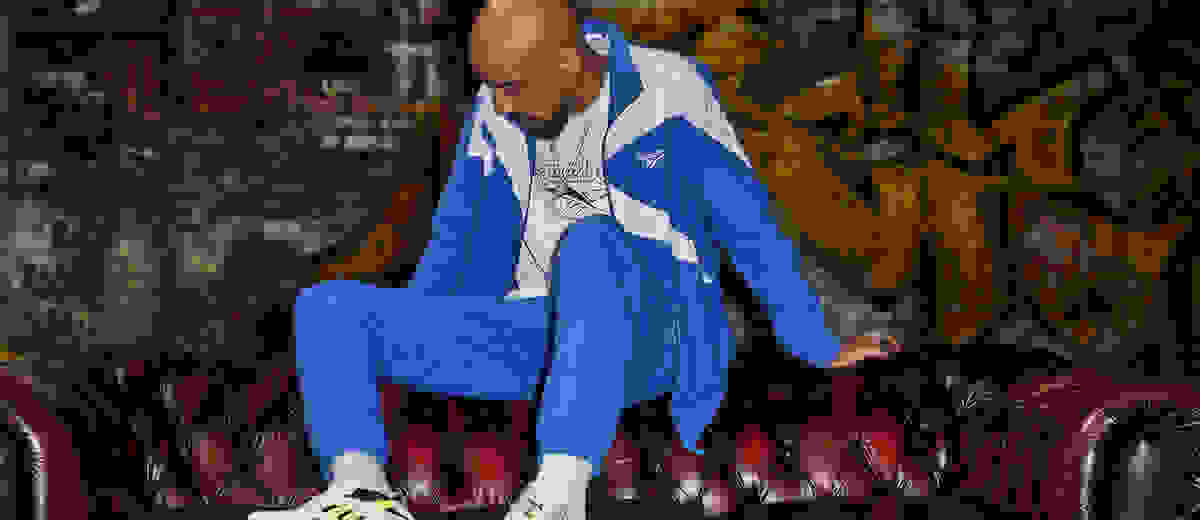 New Machine pisze, dlaczego warto podążać własnymi ścieżkami
Reebok Aztrek zadebiutowały w 1993 roku. Były to buty do biegania inne niż wszystkie, dostosowane do każdej nawierzchni i wyposażone w innowacyjną technologię, która ugruntowała ich pionierską pozycję. Jak na tamte czasy ich design był wyjątkowo śmiały. Także teraz ci, którzy chcą podkreślić swój unikalny styl, często sięgają po ich archiwalną sylwetkę.
To właśnie dlatego Reebok Classic podjął współpracę z brytyjskim piosenkarzem, gitarzystą i producentem Adamem Jordanem – znanym jako New Machine – który wybrał własną drogę w przemyśle muzycznym. Już od najmłodszych lat Adam nie podążał utartymi szlakami – i ta odwaga się opłaciła. Adam urodził się w latach 90. Poprosiliśmy go, aby opowiedział, jak te lata go inspirują, jakie wyzwania podjął i dlaczego zawsze warto chodzić własnymi ścieżkami.
-----------
Chyba każdy nosi w sobie coś z czasu, w którym dorastał. Lata 90. były ciekawe dla muzyki, filmu i zdecydowanie dla mody. Wywarły na mnie duży wpływ, a szczególnie odbija się to na moim stylu. Odkąd zacząłem dorastać, otaczała mnie muzyka grunge, rave (śmiała sama w sobie), metal i właśnie ona sprawiła, że jestem teraz tu, gdzie jestem.
Jeśli chodzi o klimat, to zawsze dominował w nim niepokorny duch rave. W latach 90. ludzie nosili szalone okulary, szalone dresy, wszystko było przesadnie duże. Myślę, że wiele z tego zaczyna wracać – tak jak Aztrek. Odkąd pamiętam, lubiłem się wyróżniać, wyglądać inaczej. Wydaje mi się, że byłem takim dziwnym dzieciakiem, który dorastał w za dużych, workowatych i porwanych dżinsach, obwieszony łańcuchami i z czerwonymi dredami. Zawsze lubiłem zaskakiwać ludzi. Wciąż nie przestałem poszukiwać czegoś unikalnego, wyróżniającego.
Na przykład biały pasek. który noszę czasami na twarzy. Dzisiejszych artystów trudno jest rozróżnić i czułem, że potrzebuję czegoś, co bardziej zaznaczy moją tożsamość, co pozwoli mi się odróżniać i zapaść komuś w pamięć.
W swoim życiu miałem wiele etapów: dorastając, namiętnie słuchałem metalu; w szkole średniej byłem fanem R&B, potem był hip-hop i cała reszta muzyki tanecznej. Ale jedną z głównych rzeczy, o którą walczyłem, jest po prostu zachowanie motywacji. W tej branży wiele razy będziesz pracował bez zapłaty i bez uznania ze strony innych. Czyli tego, co jest istotne dla większości osób. Wyzwaniem jest to, aby za każdym razem, w miarę możliwości, zachować dyscyplinę.
Pozostaję przy zdrowych zmysłach, próbując wciąż odkrywać siebie na nowo i tworzyć tyle rodzajów muzyki, ile tylko mogę. Nie lubię być zaszufladkowany lub robić zbyt długo tego samego. Podoba mi się, że moja droga zaczyna się od muzyki metalowej i prowadzi do grunge, do popu. Patrząc na mnie, nie pomyślałbyś, że robię właśnie takie rzeczy.
W ciągu ostatniego roku musiałem podjąć wiele ryzykownych decyzji związanych z muzyką, którą zacząłem robić. Tworzenie muzyki pop lub tanecznej nie jest normą dla osób o moich korzeniach. Aby przetestować siebie jako muzyka, wskoczyłem w zupełnie nowy gatunek, z którym wcześniej nie czułem się dobrze, i znalazłem coś, co pokochałem. Zdałem sobie sprawę, że jest to trudniejszy gatunek, niż początkowo myślałem.
Lubię poświęcać dziewięćdziesiąt procent czasu w studio na pracę z wieloma nieznanymi artystami, a nie z tymi, którzy mają już nazwiska. Fajnie jest szukać i znajdować brzmienie dla kogoś, kto jeszcze sam nie wie, kim jest.
Lubię zaskakiwać ludzi. Lubię łamać bariery i bawić się dźwiękiem. Myślę, że robienie muzyki ma sens tylko wtedy, jeśli chcesz przesuwać granice.
Aby dowiedzieć się
więcej o Aztrek, kliknij tutaj.